So can it be done?
Who makes a mount kit?
How much will it run?
JUST KIDDING!!!!! Not another one of those!
This is a project I have been thinking about for a few years, ya know take the bitch out of my 7th gen GTS...
I got a 3SGTE/Wiring harness/ECU/etc... about 6+ months ago and have been waiting for time.
I got some time this week and we got it hung so far! Axles are super straight! Making front and rear mounts next week and I am going to need a SMIM (Sheet Metal Intake manifold).
There is some space issues with the cowl and the long intake manifold that came with my 4th gen 3SGTE.
I could hack up the cowl and make it fit then fab somthing for the windshield wipers OR I could leave the cowl alone and make a SMIM to fit and the SMIM will make more power... No brainer there! SMIM it is!
This is not one of those 'Can I do It threads'
I am doing it and just going to fill ya'all in...
There will be more to come next week!
Not a great pic but that is a Caldina 3SGTE (Coil Pack Motor) sitting back with that S Engine Family Gangsta Lean.
My goal is to keep everything functioning like stock, AC, Gauges ETC...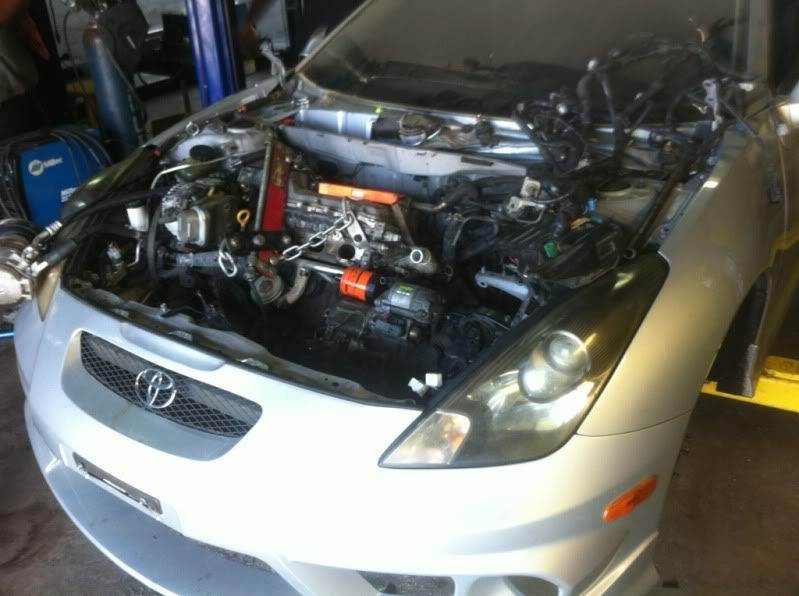 BTW, the 3S motor fits pretty great so far... maybe there is something I have not run into yet that is the reason everyone acts like it is impossible. I cant believe no one makes a kit...
After i get this running in FWD mode I am buy the rear subframe assembly from a GT4 and going to explore the possibilitys!