Discussion Starter
·
#1
·
Ok well im car is making this funny shaking noise sounds like near the top of the engine but im not sure its so loud sounds like its coming from everywhere.
I think typing out the sound would be totally fail but ill try
Chetk Chetk crukt treft
*sigh* well i recorded the sound. It is hard to hear so you might have to turn up the sound all the way on your computer and speakers. but dont forget to turn it down after. haha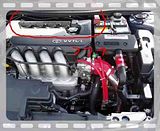 Well im guessing it just cuz the miles is getting high (about 130k) but might be somthing small.
Anyone know what it is?
[edit]
this piceture of the CLEAN engine is just a pic. not my engine.