For those of you who want to do this mod, but are unsure which hoses go where, this guide should help. It's very straightforward anyway, but if you're anything like me, this may well save you your dinner getting cold!!!
Right, to begin with we need to clarify which hoses etc I'm talking about. 'My' left might be different to how you percieve 'left', so for the purpose of this exercise...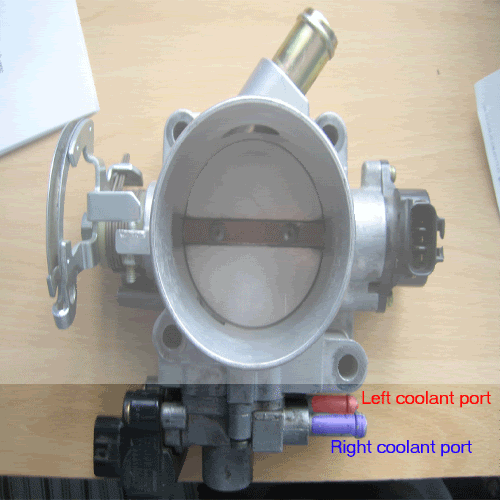 When you take the throttle body off, you will want to plug the coolant hoses with the long gold bolts to stop leaking coolant everywhere. These hoses are a pain to get off, so be patient with your pliers and don't go crazy. To get this small hose off completely from the engine side too, you will need to take off the left engine side coolant hose first to get access to the right side one. This is an even bigger pain and small hands like mine, will be of definate advantage here!!!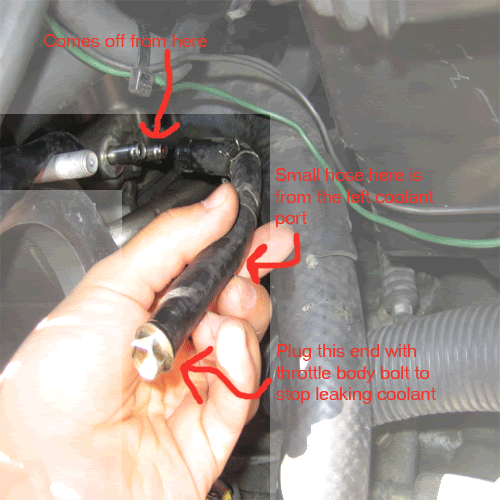 So, just to clarify thus far...
Now take the longer hose from the right side of the throttle body and insert it over the right side port on the engine as the arrows show in the picture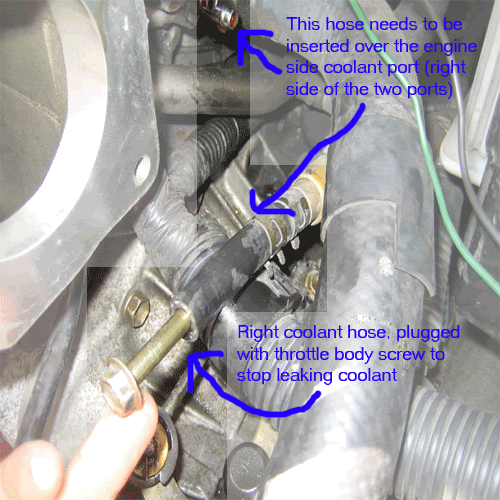 aaaaand if you've done it all correctly it should look something like this
On a side note, when you start up the engine you might get 'air-lock' in the cooling system. The first thing you should do as a precaution is to turn on the interior heater and put it on 'hot'. If when the engine starts to warm up, you don't get any warm air coming through, open the air bleed valve on the coolant fill box slowly and slowly squeeze the main radiator pipe until the air is out and the coolant starts to squish out. I may be wrong here, but that's what i've done numerous times to solve this problem.
Lastly, I nor newcelica.org will be held responsible for any damage done to your car by doing this mod. I don't know HOW you can get this wrong, but it's just here as a guide to show how 'I' did it