I bought a few H7 LEDs that did not shine a focus beam on the road in front of the car, despite adjustments. If you rotate the bulb inside the cavity, the beam changes significantly. But the bulb is supposed to be locked in 1 position.
I bought a pair of this H7 LEDs for about $8. They put down a good bright spot in front of the car, far brighter than the 50 Watt halogen. They have been in the car about 3 years. Still shining no problem.
Each bulb is supposed to draw 55W. The 20000 lumens claim may be bogus, but the beam is bright, white and solid in front of the car.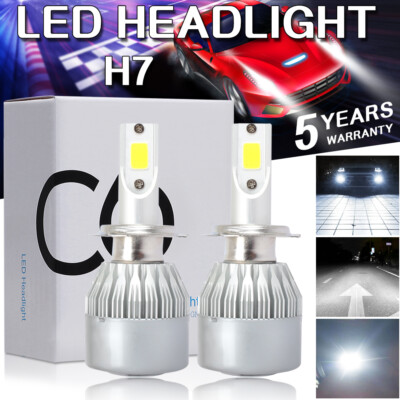 Color Temperature: 6000K White. Beam Angle: 360°. To Fit: Low Beam Headlights KIt. Application: Low Beam Headlights. Beam Angel: 360 Degrees. 2 x LED Headlights Bulbs. Number of Bulbs: 2. LED type: COB LEDs.