Discussion Starter
·
#1
·
hey guys whats up just wanted to stop by and say hi, i'm new to newcelica.org, but i'm A member of 9thgencorolla.com , i know its not a celica so please dont flame me too bad, i'm posting some pics below with the wheels, that will be on the car in March/April of '07. I have a '05 corolla XRS and i'm looking for some performance mods and everything.
This is a list of what i have going on so Far:
Denso IK20 plugs, Grounding Kit, Fidanza Flywheel, Exedy stage 2 clutch, Injen CAI, TRD Front Strut bar, Alutec Rear Strut bar, Hotchkis Sways (wainting to be installed), Tein H-techs, TWM performance Short Shifter (waiting to be installed) and soon a Boosted 2.0 Exhaust manifold.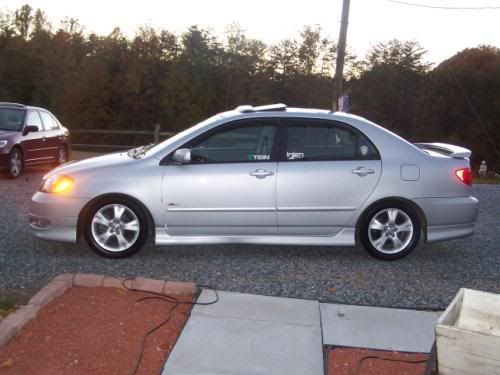 Got some more updated pics but nothing much, Debadged, painted black Toyota trunk badge, and painted black "X" on the XRS badge. I'm located in Virginia if anyone ever wants to hang out and drink some beers i'm down PM me and we'll gofrom there.. !!!..nice site and TY to everyone..!!!