Single-piece Racing Hart CR:
Forged Multi-Piece Racing Hart CR: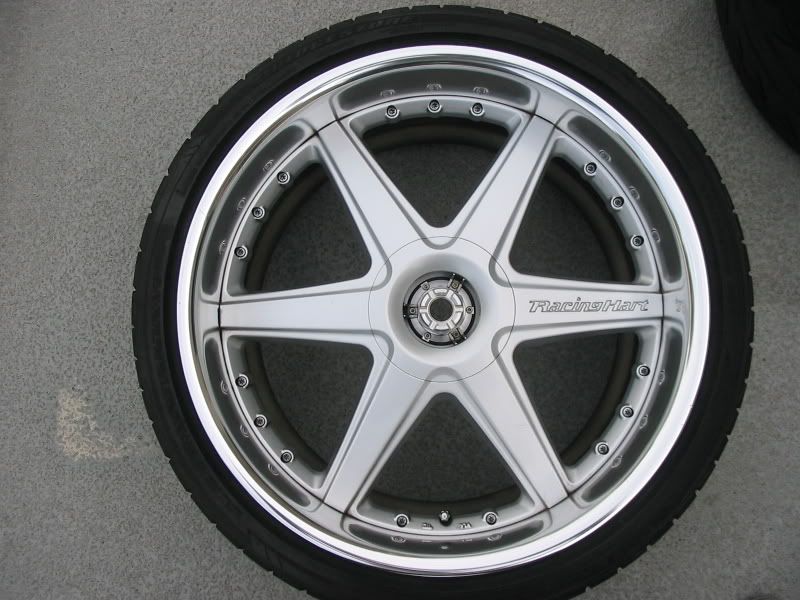 Racing Hart CR Fakes and Replica's:
Racing Hart
s
and Racing Hart
Type
Racing Hart CR Colors:
Silver, Graphite, Chrome, Gun Metal and Gold
Racing Hart Wheels / Racing Hart Rims Info:
Racing bred, hart driven. Racing Hart Wheels utilizes award-winning technology that has been proven time and time again on the racing circuits throughout Japan. Racing Hart Wheels designs have continually withstood the test of time. It is the culmination of a proud racing heritage and proven performance-enhancing construction. Racing Hart wheels are the choice of the distinguished motor sport purist. The latest from Racing Hart Wheels is no exception.
The Racing Hart brand name is used to identify the multi piece and forged wheels. There are a couple of reasons why the Racing Hart three piece wheels are more expensive than most custom rims. One reason is the exact fitments and and offsets that 3/2 piece wheels offer.
In 1 piece forging, all the material is structural. There are no bolts, no flanges to be bolted together, and no extra material for the bolts to bite into, so a 1-piece forged wheel is usually much lighter than an equivalent three-piece wheel. Which is one advantage of a forged alloy wheel.
Racing Hart custom wheels are produced to higher standards of casting, materials and finish and all lug cover caps and nuts are made of machined aluminum. Most models are available in 15, 16, 17, 18, and 19 inch. Finishes include: Super Black Coating,
The RH EVO (evolution) brand are not Racing Hart wheels but this line RH EVO is licensed from the same designers as most of the Racing Hart line. As for the country of origin - JAPAN is the birthplace for Racing Hart / RH EVO. Racing Hart is known as Sprint Hart in Japan.