Discussion Starter
·
#1
·
I was following the diagram from the instructions of the TRD wing spoiler from this website.
http://russ.angrypacket.com/index.php?option=content&task=view&id=55&Itemid=35
My problem is, I tried to do the wiring swap as stated in the stock brake light area. It said to pull out an 8 pin connector as pictured.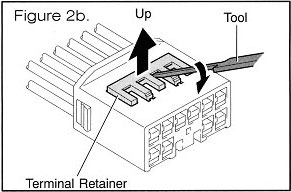 I have a 2002 (instructions are from an 00) but I don't have that connector. All I see is a connection plug with 2 wires on the female and male end.
Are the hook up instructions different for an 02 and up?
The shop just plugged in my wing after installation but my stock brake light still works while the wing doesnt.